I don't have children; perhaps I will at some point, but I don't see kids in my immediate future. It's not due to the cost of raising children, though for many years, I believed I wasn't in a financial position to provide all that I would want to provide to a child growing up.
A few weeks ago, this comic from xkcd was making the rounds among my friends on social media websites. The comic increased the level of smugness among single men, single women, and dual-income-no-kids couples, while tacitly angering those who have chosen to bring miniature humans into the world, particularly those who have realized the implied truth of the comic — the smaller bank accounts and lighter wallets.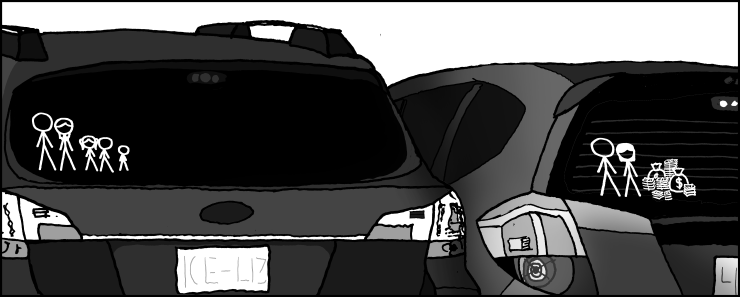 I never understood the appeal of those family window decals in the first place. They deserve the same derision as those "My kid is an honor student" bumper stickers. It's great to have pride in accomplishments, but there is no need to announce successes to strangers who haven't asked about the academic performance of your family. I don't think there's a need to share reproductive accomplishments, either, as those family decals seem to do. Perhaps this is my bias as a non-parent; would my opinions change after I have kids?
The above comic illustrates that the typical couple trades in significant wealth for the blessing of children. To generalize, happy and well-adjusted parents might say you can't put a price on the positive experience of nurturing a family, while a couple sans enfants par choix might laugh all the way to the bank, directing the hundreds of thousands of dollars saved per each non-existent young adult towards retirement, fun, business opportunities, and charity.
According to a cost calculator from BabyCenter, a family earning over $100,000 in an urban area in the northeast United States could expect to pay $500,000 for rearing a child through college, including tuition for a public college. Choose a private college and the cost increases to $530,000. Alternatively, a family could reduce this cost by requiring children to pay their own way through college.
In an article I wrote last year for U.S. News and Yahoo Finance, I suggested people could save money by, among other things, choosing not having children. This engendered a a vitriolic response from parents offended by the implication children — their children, specifically — were nothing more than a waste of money. For those who have not had children, though, continuing to not have children is a legitimate choice. Most decisions in life are temporary, but once you have children, you cannot un-have them. This permanence, while a beautiful life-affirming experience, is expensive, and if having children by choice, families should consider the financial consequences.
The idea of having children is one of those special conversations where the decision isn't always about the bottom line. Finances must always play a role, but the choice isn't always logical in nature. How strong a role should finances play in the decision to have children? And if finances pay a strong role, does it follow that low-income or poor families shouldn't procreate?
Published or updated September 19, 2011.